On Friday 21st June, our Chief of Staff Emilia Gladhaug and Marketing Consultant Alice Bodill-Maher attended the GDST's Inspiring Female Summit at Chelsea football club, sponsored by Concilium Search.
The Inspiring Females Summit, originally set up by Norwich High School for Girls in 2016, has inspired over 1,000 girls since its founding. Every year speakers are invited to educate and empower the girls, sharing stories of their career downfalls, successes and everything in-between; parting wisdom to inspire the next generation of influential females.
This year's guests included: Olympic rower Annamarie Phelps (CBE), BBC researcher and broadcaster Dr Stephanie Hare, CEO of The Diana Award Tessy Ojo, Co-founder of Stemmettes Jacquelyn Guderley, the first female Sergeant Major at Sandhurst Kelly Caswell-Treen and many more truly incredible individuals. Not forgetting of course, our very own Emilia Gladhaug.
"I attended a GDST school and so does the daughter of our CEO Maduka Okeke so it seemed a natural fit for us."
With such strong personal ties to The Girls Day School Trust, it was a no-brainer that we be as involved with the event as possible. Alongside being proud sponsors of the event, we were delighted to have Emilia giving a business talk and our CEO Maduka Okeke on the Dads and Daughters panel.
Why we need more women in business – they change the game.
Providing anecdotes about her own experiences, Emilia talked to the girls about how, although the innate skills she possessed weren't necessarily valued in academics, they became integral to the growth of her career. Like many, Emilia left University without a clear direction of where she saw her career going. However, staying strong-willed, open-minded and resilient, Emilia was able to navigate her way through career changes and challenges. Leading her to the place she's at today: managing a self-built back office team and working alongside senior management as a Partner at Concilium Search.
In-between Emilia's women in business talk and sitting in the audience for other guest speeches, Alice and Emilia enjoyed speaking to the girls at Concilium's stand in the welcome hall. The students, who were visiting from GDST schools across the country, were forthcoming in asking questions and wanting to learn more about what a career at Concilium Search entails. The students' maturity and enthusiasm really impressed Alice and Emilia, which is really encouraging for any future work experience opportunities we choose to offer at Concilium.
The day was nicely rounded off with the Dads and Daughters Q&A panel, for which our CEO Maduka and his daughter Aimee were panellists. Maduka and Aimee were joined by a panel of inspiring guests and their daughters, including the CEO of Chelsea FC Guy Laurence. The dads were asked a series of career based questions from the panel's chair Dr Stephanie Hare. Profound, insightful and humorous at times, the Dads' perspectives left the girls (on the panel and in the audience) with a greater understanding of how they overcame their own career hurdles and provided some great pearls of wisdom for the girls to take away from the talk.
"We want to inspire girls, educating them as to what new movements are available in the world of careers as well as to help them access the traditional routes, and empower them to make wise and confident decisions about their futures." Kirsty von Malaisé, founder of Inspiring Females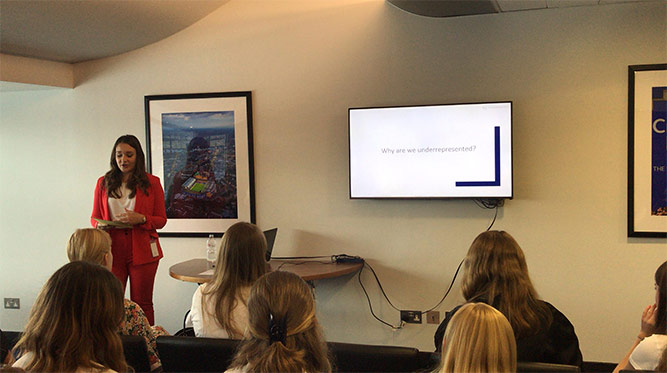 We were honoured to be a part of such an inspiring and successful event and look forward to working with the GDST again in the future.
Inspiring Females Summit

Sponsoring the education which is empowering girls to make wise and confident decisions about their careers.

Beam

Fundraising for the first online platform that crowdfunds employment training for the homeless and disadvantaged.