8th February 2019
At Concilium, we are dedicated to developing our global network and furthering our international presence with the offices we establish and the clients that we partner with. In 2018 we saw great success in opening our first US office in New York and in January 2019 we proudly opened our third office in Amsterdam. It's of key importance to us that we allow our graduates to experience the benefits of working internationally.
Our CEO, Maduka Okeke, has always identified the importance of working globally in expanding your network and increasing cultural awareness. So, last week, we sent Associate Consultants from our Summer 2018 Graduate intake, Lewis Wright and Bradley Pearce, to work from our Amsterdam office.
What most appealed to you about working abroad?
L : I was really looking forward to working out of the new Amsterdam office, and experiencing quite a different atmosphere to the what we are used to in the London HQ. Despite having worked and studied in several UK towns and cities, I had never worked abroad, and that is something else that I was really looking forward to. Gaining an appreciation of a different culture and feel of the continent was an exciting prospect for me. Finally, I was of course really looking forward to catching up with Kevin (Country Manager) and David (Head of Permanent Search - Europe) again, and seeing how they have made the place their own over the past couple of months!
B : It was really exciting to be travelling to a country I had never been to before and experiencing a new culture and environment in the newly opened Amsterdam office. Additionally, I was looking forward to having the opportunity to meet with an international client.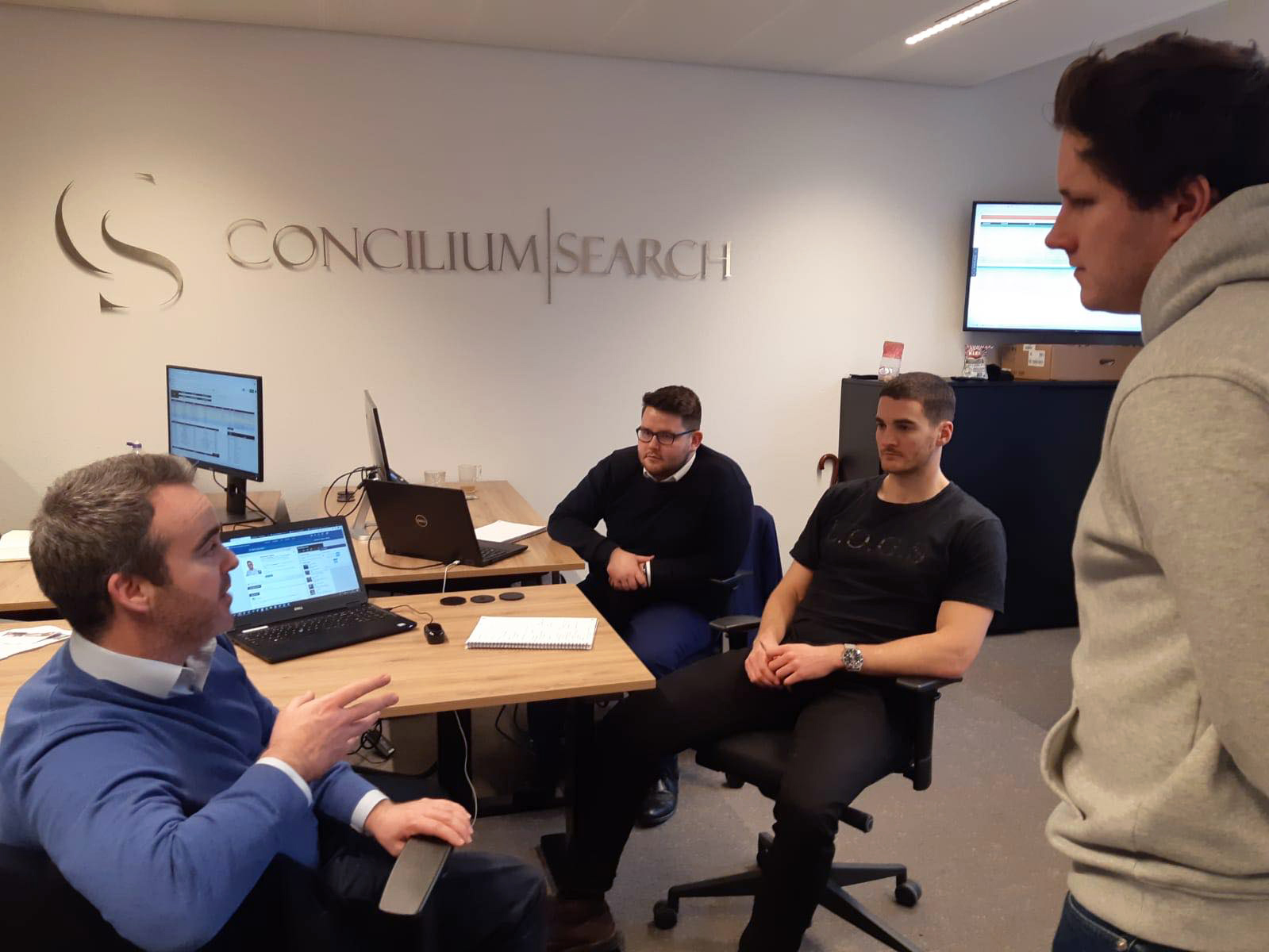 How would you sum up your experience?
L : What a few days – it is fair to say that Amsterdam treated us pretty well! It was great to spend three days in the Dutch capital with Kevin (Ross) and David (Potter), and to see for myself the hard work they have been putting in to start up Concilium's first office in mainland Europe. I was really excited about following up my voluntary experience abroad with my first time working in a new country, and it lived up to all expectations!
Our trip included:
Trips to the local indoor 'street market' (for Maduka-favourite chicken burgers from Foodhallen).
Tackling business in the Amsterdam office with our Managing Partner Richard Walker-Taylor
A steakhouse dinner in central Amsterdam
Overall, an exceptional few days, with: great company; wonderful hospitality, and; an incredibly welcoming culture.
Tot ziens, Amsterdam!
Would you take up the opportunity to work in the Amsterdam office again?
B : As soon as I landed back in the UK, I was already looking forward to the opportunity to go out and work there again. The dynamic within the office was fantastic and I look forward to spending more time out there in the future. Having a change of scenery has allowed me to come back even more focused than before and looking to push on.
We asked our Amsterdam team: Country Manager & Partner Kevin Ross and Head of Permanent Search (Europe) David Potter, what their experience of having Graduates in the new Amsterdam office was like:
K : It was fantastic to have Bradley and Lewis in our Amsterdam office last week. They are making tremendous strides as associates and have developed exceptional business development skills. We were obviously able to show them our brand new office, but also parts of the city and what life in Amsterdam is really like! We look forward to having them and other associates over on future trips and to continue to be able to provide our consultants with the opportunity to work abroad.
D : It was great to have Lewis and Bradley in the Amsterdam office. They both brought a huge amount of enthusiasm and motivation and seemed to enjoy their time here! Most interesting for me was to get a deeper understanding of their respective markets – Energy and Civil Engineering. Both markets show huge promise for us here in the Netherlands and we have already developed a significant presence in both sectors.
It was great to see them both so involved with a clear plan for how they are going to expand and grow.
At Concilium, we are always looking for new ways to make sure our graduates are having the most fulfilling experience working with us and are given as many opportunities as possible to grow their career.
If working at the forefront of international recruitment excites you, head over to https://www.conciliumsearch.com/work-for-us/ and apply for a role with us!
Post a Comment
Thank you for joining the conversation. All comments are moderated before publication, so it might be a few hours before your reply appears here.